Job Interview People Skills: Two Essential Steps | #JobInterviewing #PeopleSkills
by Kate Nasser | Comments Off on Job Interview People Skills: Two Essential Steps | #JobInterviewing #PeopleSkills
Tips about job interview people skills and how to interact abound. Yet there are two lesser-known essential people skills tips that you haven't read. These job interview tips will assure you success in all your job interviews. Watch this short video and see the common sense logic behind these tips and why they aren't so common.
Image by Nathan Stephens via Flickr Creative Commons License.
Two Never-Fail Job Interview People Skills Steps
There is always one challenge in every job interview and that is how to be real and still come across as professional? Well, in this short video, I share exactly how to do that and it is much easier than you think. Then I address the second challenge about how to talk about your previous job experience without falling into one very dangerous trap.
Kate Nasser, The People Skills Coach™
w/Two Essential Never-Fail Job Interview People Skills Tips
As long as you do your research about a company in advance and understand what they are looking for, job interviews are not difficult. Use the two essential tips that I've discussed in the video above and win that job you want. I had three different corporate job before I started my own business and what I learned in interviewing for those jobs has even helped me as a business owner. I share the two essential lessons in the video above so you can sail on in your career.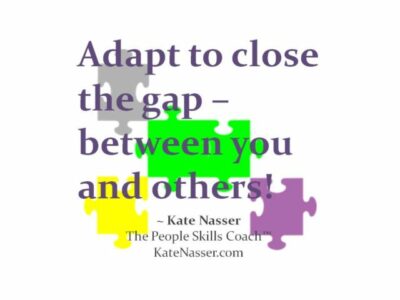 From my professional experience to your success,
Kate Nasser, The People Skills Coach™
Related Post:
New Situation People Skills: Are Yours Ready?
©2021 Kate Nasser, CAS, Inc. Somerville, NJ. I appreciate your sharing the link to this post on your social streams. However, if you want to re-post or republish the content of this post, please email info@katenasser.com for permission and guidelines. Thank you for respecting intellectual capital.
---
Kate Nasser, The People Skills Coach™, delivers coaching, consulting, training, and keynotes on leading change, employee engagement, teamwork, and delivering the ultimate customer service. She turns interaction obstacles into interpersonal success. See this site for workshop outlines, keynote footage, and customer results.
Get more inspiration and actionable tips for high engagement results!
Buy Kate Nasser's new book Leading Morale (Amazon.com).